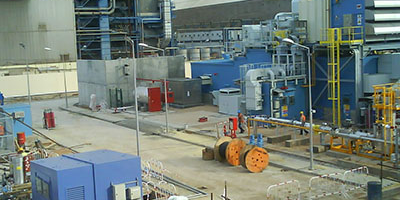 Industry
Industrial establishments are particularly exposed to fire risks due to the nature of their production, products used or stored that can represent a danger to people, property and the environment. They can be the cause of disasters with very serious economic and human consequences
High ceilings (smoke stratification phenomenon); the presence in operations of natural environmental phenomena, such as dust or humidity; the presence of aerosols or fumes; the existence of special aeraulic conditions: ventilation, blowing; the temperature and its variations; the presence in the environment of corrosive substances (chlorinated compounds, ammonia, acids, …); the presence of open flames, special lighting (for optical flame detection) among others, does not always ensure optimal reliability of the so-called "traditional" detection systems.
Fire detection adapted to the specific constraints and risks of the industrial site is essential to ensure its safety and prevent any loss of operations. The EX range is intended to monitor the fire risk in an ATEX environment. It provides a detection solution in difficult environments.
But it's not enough to detect and secure. It's often necessary to protect people and property by acting on the start of the fire itself. In addition to the immediate danger of fire, the risk is also the spread in the vicinity of the disaster. An automatic extinguishing system also helps manage this threat by cooling the surroundings of the incident.
Whatever the risk may be, warning and alarm are the key phases in protecting people and the implementation of firefighting measures.